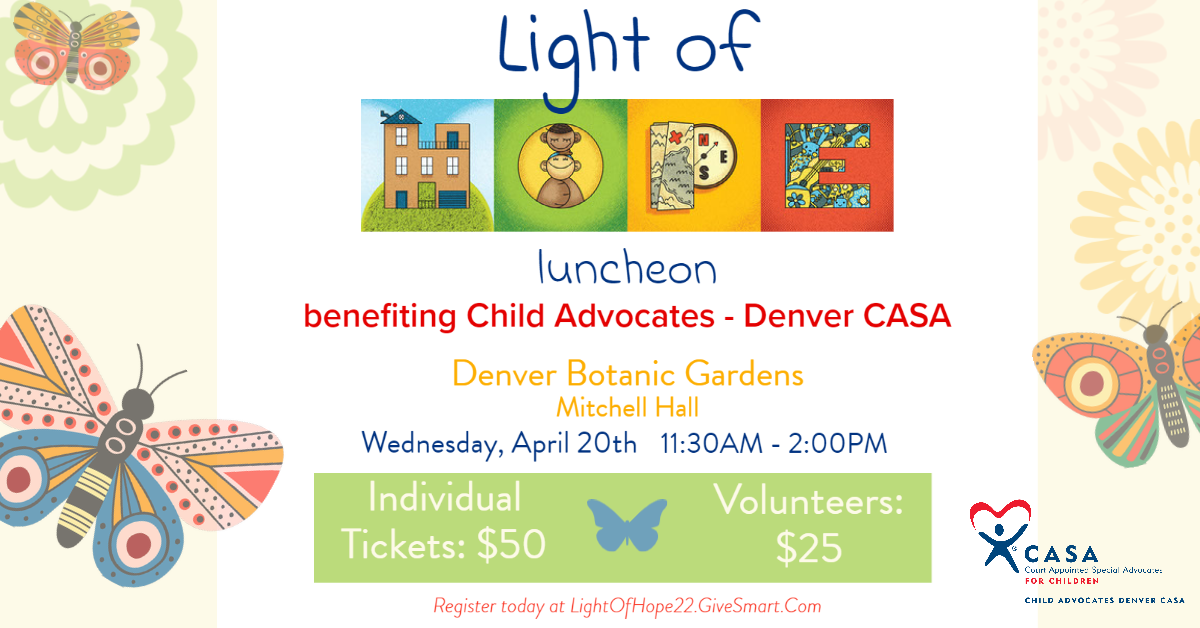 Child Advocates – Denver CASA is excited to bring our annual Light of Hope event back in person! The Light of Hope Luncheon will be on Wednesday, April 20th from 11:30am to 2:00pm at Mitchell Hall in the Denver Botanic Gardens (1007 York St, Denver, CO 80206). Join us for a lunch with supporters of Child Advocates – Denver CASA, learn more about the work we do, and celebrate for our annual Catalyst for CASA volunteer award. After the event, take advantage of a late spring day to enjoy the Botanic Gardens.
We can't wait to see you back in person for this inspiring event celebrating Denver CASA's children, youth, and families! Tickets and more information on corporate sponsorship opportunities can be found at lightofhope22.givesmart.com.
Corporate Sponsorship
Corporate Sponsorships are a great way to grow the reach of your business while giving back to your local community. By sponsoring the Light of Hope Luncheon, your organization will be featured at the event and on Denver CASA's social media platforms. Your sponsorship also is a great way to go further in supporting the life-changing advocacy CASA volunteers provide. Corporate sponsorship opportunities can be found here.
Click Image to View and Download:
Volunteers
We want to thank all of our volunteers for all that they do, so we are offering tickets at half price for any active CASA Volunteer. If you are a CASA Volunteer interested in joining us for this event, please e-mail Kara Angelini at [email protected] for a promo code to get 50% off your ticket order.
Table Captain
Want to help make a greater impact and introduce your network to Denver CASA? Becoming a Table Captain is a great option for you! Table Captains are responsible for a table at the Light of Hope luncheon to fill, with a goal of raising $2,500 (the cost of a year of advocacy for two CASA children) and inviting new people to learn about Denver CASA. If you are interested in becoming a Table Captain, please e-mail Kara Angelini at [email protected] for more information.